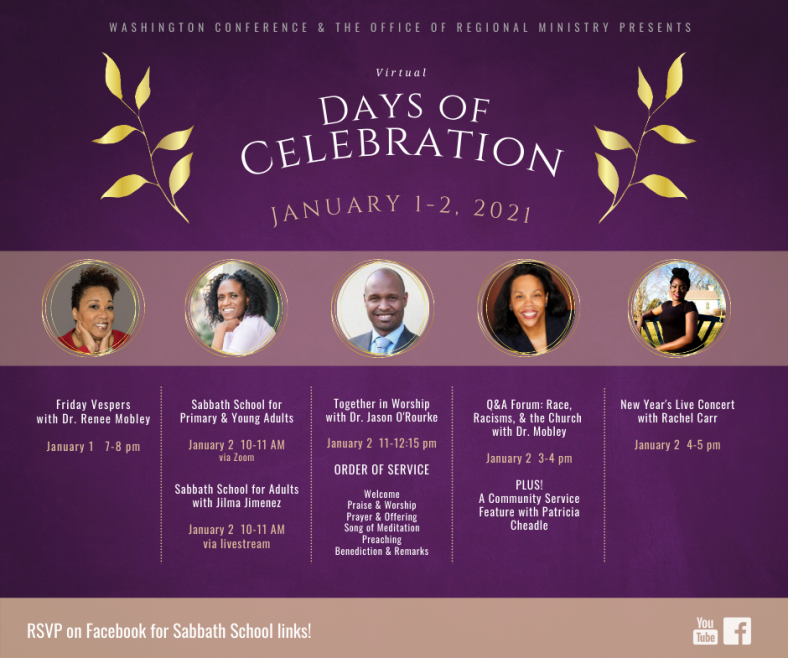 Days of Celebration, the annual gathering of regional churches in western Washington to start the new year, is going virtual! This is everything but the food and the fellowship! The programs will be available here on Mt Tahoma's website and on Washington Conference's Facebook and YouTube channel.. 
Dr. Renee Mobley will start the gathering on Friday, January 1, at 7 pm with a presentation about race, racisms and the church. Dr. Mobley will host a follow-up Q&A session to her presentation on Sabbath afternoon at 3 pm, so prepare your questions to ask!
Sabbath morning will begin at 9:50 am with a Sabbath School discussion by Jilma Jimenez on Facebook/YouTube. There will be two separate Zoom Sabbath School sessions for children and young adults.
Children's Zoom Link: https://us02web.zoom.us/j/81675586733?pwd=RVRxd1pWU3I3YXpGSGtXcTROMzJXQT09
Young Adult Zoom Link: https://zoom.us/j/94402729134?pwd=ODZnSTJicEVyWnZCSTFxcDZFZ0NXdz09
The adult Sabbath School stream will go directly into the Worship Together service from 11 am to 12:15 pm with Dr. Jason O'Rourke. It will be the same Facebook/YouTube stream link for the entire morning.
After lunch on your own, come back for the Afternoon Q&A session with Dr. Mobley and friends at 3 pm, plus hear from Patricia Cheadle about a new ministry for women. This will be available on Facebook/YouTube as well. As soon as the Q&A session concludes, the concert with alto Rachel Carr will conclude Days of Celebration from 4-5 pm.
MAKE THE MOST OF YOUR VIRTUAL WORSHIP EXPERIENCE:
Pray for God's blessings as you worship
Say hi in the chat box and interact with the audience questions
Sing along with the musicians and follow along with scripture passages
Type in a soundbite you liked (you can also like other people's quote comments)
Drop your likes and loves reactions to say "amen"
After Days of Celebration concludes, call a friend you would usually see if you would have attended in person. Check in on each other and share some fellowship over the phone or video chat.
May this time of praise, prayer and preaching start your new year on the right note with God!